The Innisfree Poetry Journal
www.innisfreepoetry.org
by A CLOSER LOOK: Dan Masterson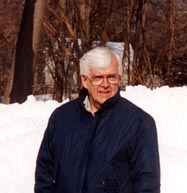 Photo by Janet Masterson

Dan Masterson's first book,

On Earth As It Is

, was published in 1978 by The University of Illinois Press, and was one of six finalists in The AWP Award Series in Poetry. Publishers Weekly called it "A relentlessly provocative book of visions." The Library Journal wrote that "In Masterson's vision, suffering always provides some measure of knowledge and nobility." Anne Sexton said that Masterson's poem "'Legacy by Water' surpasses what most of us have done by many a lap." James Dickey wrote that "We believe him: everything in human life and everything in poetry depends on that response, and Masterson gives it to us, rewardingly and essentially." And James Wright commented that "The book is genuinely disturbing because its technical mastery illuminates, from beginning to end, so many complex and living themes. I have read it over and over again, and I've carried it about with me as I've done with precious few books in recent years. I think the book carries absolute artistic conviction. It is a wonderful achievement."

A recipient of The SUNY Chancellor's Award for Excellence in Teaching, Dan Masterson has directed the Poetry program at Rockland Community College for 45 years. During eighteen of those years, he also served as an adjunct full professor at Westchester County's Manhattanville College, directing the poetry and screenwriting programs, and continues his affiliation with that institution through a graduate poetry writing course he offers online. Upon his retirement from Manhattanville, the College's Board of Trustees established The Dan Masterson Prize in Screenwriting. He has just been named the first Poet Laureate of Rockland County, New York, for the years 2009 and 2010.

Dan's fourth collection, his

New and Selected, All Things, Seen and Unseen

, was released by The University of Arkansas Press in 1997. His work has appeared in

Poetry, Hotel Amerika, Esquire, Shenandoah, The New Yorker, Ploughshares, Poetry Northwest, Prairie Schooner, Artful Dodge, Ekphrasis, Poems Niederngasse, Chautauqua Literary Journal, London Magazine, OnEarth, Innisfree, New York Quarterly, Eratio, Mudlark, Poetry Kite

, as well as

The Ontario, Sewanee, Paris, Southern, Hudson, Yale, Gettysburg, Massachusetts, New Orleans

, and

Georgia Reviews

. Additional information about Dan and his writing is provided in the bio space at the end of this feature.

This Closer Look at Dan Masterson consists of two parts: first, a collection of six poems entitled "Sticks & Fists & Rosaries," three of which are ekphrastic poems based on the paintings shown, and second, an autobiographical piece, also entitled "Sticks & Fists & Rosaries," in which Dan reflects on the origins of these wonderfully evocative poems from deep in his childhood years.



I. STICKS & FISTS & ROSARIES




FIST FIGHTER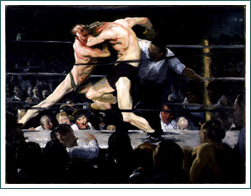 "Stag at Sharkey's" by George Bellows















Saloon-keeper Tom Sharkey, retired heavyweight contender, is doing some fancy

footwork in avoiding the current NYC ban on boxing by awarding 'membership' to

every fighter he books for his Athletic Club brawls in his Lincoln Square cellar.

—The New York Times, 1909



The kid comes down Sharkey's stairs slapping
Snow off his great-coat, the threadbare elbows
Sporting ragtag patches cut from the hem.
He's got a fresh shiner from one of the 3 other
Smokers he's already worked tonight & a few
Random welts starting to fade. He weaves his way

Through the crowd, nods to Sharkey, unlocks
The Stay Out door, & flicks the wall switch
Before closing the door behind him. He hangs
His coat on a hook near the speed bag, & turns
It into a blur with a flurry of lefts & rights. He
Steps out of his trousers, reties his trunks & slips

A fold of 1's into an envelope: 15 of them,
5 bucks a win. He sticks it under the mattress
He falls down on & closes his eyes for no more
Than a 10-count. Up on his feet, peeling off
His tee shirt sopped in sweat & spattered with
Someone else's blood, he rubs his arms & yanks

A clean tee shirt on as he leaves the only room
Sharkey rents: half the kid's take per week.
A dime for each piece of skinny-wood he burns
In the potbelly. 2 dimes for a hot bath upstairs.
Free beer if Sharkey goes out on the town. Sneaked
Meals from the cook, Bernie, who calls the kid

Champ and takes his break at 10 o'clock, in time
To see the kid do his stuff. The main room's filthy:
6 rows of metal chairs tight against a 9' x 9' ring
Strung with braided clothesline covered in black
Tape. 10 100-watt clear bulbs hang limp on their
Bare wires, sawdust wet on the concrete floor,

The potbelly's stovepipe jammed through the broken
Glass of an overhead window nailed shut & painted
Brown, an open drain in a far corner: Sharkey's "Please
Flush" sign a ten-year-old bad joke, stale beer sticky
Underfoot, cigar smoke & old men with nowhere
To go. The kid's heading for the ring, lifting 2 rolls

Of waxed-gauze from their pegs & 2 hollow stubs
Of hose to support his closed fists. He wraps his hands
As though they are already bleeding, round and round,
Flexing his fingers as the knuckles grow padded and tight:
The only gloves Sharkey allows. Just 18, the kid's in his
4th season, & his pale Irish grin, riding above thick shoulders,

Is clean except for some hack doctor's stitch marks
Under the left cheekbone. He climbs through the ropes &
Sits on the stool, fondling his mouthpiece, & studies
The empty stool across the ring, wondering who it will be,
& now there's Harris stepping through the ropes, his
Bare knuckles showing through the gauze: a leftover

Wrap-job from his earlier fight down the block
Somewhere. Getting too old for this stuff, 37, 38,
Starting to lose his edge. It'll be okay, thinks
The kid. He decked Harris in minute 6 last night
At Ramsey's & he's got no defense left, just a pecking
Jab & a giveaway right that opens him up for rib shots

That put him down & a jelly belly to keep him down.
Sharkey's playing ref again, calling them to the center
Of the ring: No gouging, kneeing, biting, wrestling, butting,
Hitting low, no clock. You want out, you stay down for 10.
Go.



from Ontario Review






GOING THE DISTANCE



The late June sun had come in the window
over his mother's bed, and he used it
to make shadows on the wall, but they came out
looking like ropes, tight twisted things,
wrapped around themselves. He flicked
all ten fingers and closed them
into fists, pressing knuckles to knuckles
until they hurt, as they did
when he'd fight in the schoolyard.

They were big hands, like Grandfather Fitz's
he'd been told, the man long dead, whose sepia eyes
never closed as they stared him down
from the opposite corner, the oval portrait
leaning too close on its wire.

He knew he shouldn't look below the frame
at his sleeping mother, but he did,
sometimes, and saw things. He did not
enjoy seeing her nightgown hiked up
to her hips when the sheet slipped away
in the night. He wished he could yank it
down, tuck it in, pin it tight
to the binding running around the mattress.

What he liked best was lying at first light,
her long braid brown and inviting,
almost touching the floor. But he grew
afraid when once she half-roused
and turned, a shoulder strap slack enough
to reveal a breast, the only one
he'd ever seen. He tried to remember
nursing at it, wondering if he'd fondled
the braid as he fed, if she caressed
him in his nakedness.

But then he'd shut his eyes and turn
to the wall, getting his face
as close to it as he could, his left hand
strained and flat against the cool blue plaster.
Often, near morning, she would say things
in dream, and he would cover his ears and hum
until he heard nothing at all.

And now, on this the last day
he'd ever have to spend in grammar school,
he lay awake in the room he'd always shared
with her, and thought about

His father far down the hall
in his chamber, his bothersome snoring
muffled from Mother's delicate sleep;
his sister close on the other side
of the wall, in the room he wanted
for himself. He shut off the alarm

Before it clanged and was relieved to find
his mother wrapped, tangled,
only a big toe jutting out for air
in the narrow space between them.

Downstairs, he smeared a piece of bread
with apple butter and sat on the porch,
remembering the summer morning his sister
forced him to stay on the bottom step
while she repeated the lie of a woman
in a long black car who would soon be at the curb;
she would wear a black dress and gloves
and laced boots. She would take him away.
He licked the last of the apple butter
from his thumb and went off the back way,
over the fence and down the path;
he was late and stopped to get
a scolding note from Sister Helena.

When the last of all bells rang for the day,
he opened his locker and stuck
his copy of

Ring

magazine in his back pocket
and took the leftover bottle
of ink to smash against the brick wall
rising high over the rectory window, someone
yelling, promising there'd be hell to pay,
calling him by name but in a voice that knew
it was best to leave him alone.

At the end of the block,
he settled under a tree, the largest maple
on the Town Hall lawn; he thought
of it as his own and came to it
on such days. He pulled
his magazine out and uncurled it, Billy Conn
on the cover, his cut-man taking the stool
out of the corner, the ropes tight behind him,
thick and twisted, wrapped in tape.

The idea hit him like a quick jab:
he could have a ring! The hardware store
had clothesline. He slipped one inside his jacket
and paid for the other two. And then home.

No one was there, and he went to the cellar.
He undid the clotheslines and looped
the three ends around the first steel pole
that supported the main beams of the house.

And then the braiding: crossing the strands,
as he'd seen his mother do a thousand times
at her vanity, stopping
to straighten the snarls, to tighten
the loops; inch by inch it grew
from pole to pole: the top rope
of his own ring, his own place,
the rope burns on his hands
reminding him of the shadows on their wall
this morning, Grandfather's eyes,
his mother's long plaited hair
half undone by sleep.

He wouldn't use tape; he wanted the strands
as they were. The last knot tied, he slapped
the rope and it almost sang back.
He went to a neutral corner and saw Billy Conn
coming at him. He circled to his left
and kept away till the round was over.

He stepped out of the ring and did
some shadowboxing near the washtubs,
banging away at the air, talking himself
into a frenzy, taking a few shots to the head,
the gut, moving away, jabbing, sticking,
until he was soaking wet.

The faucet squeaked when he turned it
on full force, cold water drowning out
everything, hands splashing it everywhere,
his shirt and slacks and undershorts
peeled off, a bath towel stiff but dry
hanging from its nail near the stairs.

Barefoot and naked,
he stepped back under the rope
to dry off in the ring, wrapping the towel
tight at the waist, tucking it in,
arms held overhead in victory.

And then the army cot, folded
within reach, to be snapped open
and snugged up against the pole
closest to the furnace, two full floors
beneath Mother's bed.

He stretched out on the taut canvas,
his left arm across his face,
the right finding the braided rope,
curling his fingers around it,
tightening his grip, running it slowly
out and back as far as he could, his mouth
going dry as he felt the strands rise
and disappear in the palm of his hand.





TUNNEL OF CLOISTERED REFUGE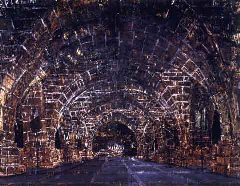 "Sulamith" by Anselm Kiefer















Once again, reports have surfaced of a holy woman sequestered in the city's subterranean world of storm drains and tunnels. The location of her heavily guarded sanctum, a haven for hundreds of homeless, is unknown to authorities who debunk her existence.


—The Underground Weekly, 1999



Mother Shulamite, her ashen hair
In shroud, dismisses the threats,
But those she tends make sure
She's never alone. They are
The throwaways found in alleys,
Bent against crack-vents & curled
Atop gratings: the Croakers, the

Grunts, the Crattles, Geezers &
Floppers, dozens of Loogans,
Bawdies & Scavengers tucked in
With Tipplers & Hooligans, Snarlers
& Bumpers, a flail of a Rager here,
A Defrockee there, a Prophet who
Once straddled the curbs for bands

Of minstrels stomping their muddy
Time for the only Elegante tapping
His wooden way on a dog-headed
Cane. All finding themselves here
Thanks to her main runners led by
Yves & Catherine & Fournet who
Brought them to this baggage tunnel

Long dead beneath Park & 72nd.
Brought here for their greatest
Comfort, bundled up for safekeeping
Far below blizzards overhead,
Together in awe of the woman who
Raises her hands in a hint of blessing,
Enthroned in a lanterned perch of

Steel fencing strung flush with sponge
Rubber slabs, the high-back Cathedra,
Its armrest removed to make way for
Bench slats & struts & hinged relies
Cut into blocks & screwed to stump
Wood to receive & support her
Sprawling weight beneath layers of

Burlap robes gathered & draped & sewn to
Enhance the dignity she wears as lithely as
A princess at a garden party, but the only
Gardens here grow limestone rosettes
Arranged by seepage bubbling up along
The jagged curves of decaying walls
Enclosing the shallow platform where

She sits over damp ground kept warm by
The steam pipes that do their hissing only
Inches away, while she intones her prayers
Of her waking hours for those in her care,
Fondling the rubbed & knobby beads she
Reveres, carved from knuckles of nuns long
Dead in the convent of Lost Emilia. This

Evening she has the company of those most
In need, who watch as she watches over
Them, her lips forming the prayers they
Feel healing their sores, bringing them
Back from the frigid gutters of their
Dreams. Thirty in all, laid out before her,
The canvas slings of their pallets propped

Above the wet floor, layered with plastic
Sheets wrapped with newspaper batting: a
Warmth unknown on the streets overhead.
She rises & descends the ramp to the
Suffering, allowing the beads of her rosary
To drift across each body, her own hands
Emitting light as soft & blue as that seen in
A child's eye, leaving a halo hovering

In place above the brow of those touched,
A sound like muted litany flowing from their
Throats in praise of the woman moving
About them, her fingers magnified to
Splendor, knuckles inexplicably flayed
Sculpting themselves into rosary beads left
Unstrung, the gasp of prayers as quiet &
Holy as bone.





THOSE WHO TRESPASS



He'd find them among fallen limbs and brush
in the pitiful stretch of trees
they call their woods: stones the size
of grapefruits, lugged out to the driveway
to be washed off with the garden hose
and left to bake on the blacktop
in the high sun before being tucked away
in the trunk of the car, along the sides,
some down in the well, snug against the spare
held fast by the stretch-strap doubling
as the tire-iron brace, a four-pronged plus sign
looking more like a silver cross the way
it is propped, as though its Christ had fallen
off, perhaps still there laid out
among the stones.

Headed for Buffalo, the outskirts,
the homestead where there were no rocks
to line the rose garden, houses no more
than a car's width away from the next,
the narrow concrete tilting
toward Bannigan's front porch.

And his parents would be there, pacing
the sunporch, waiting for the visit to begin:
five days of clutter and talk, sleeping bags
and diapers, suitcases, books,
hanging clothes, shopping bags; space enough
in the guest room.

And then the stones, last, always
last: a few at a time; each placed
ceremoniously along the rim of the rose garden
that curled against the side of the garage
to the back picket fence, turning left
at the Broderson's shed and back
toward the house.

Father is dead; Mother is gone, and soon
strangers will be moving in. But the stones
are still there, years of stones. Last night
he went off alone to do something about that.
He took only the three-inch paintbrush saved
from his father's workbench, one
of a dozen washed after every use, never
to be thrown away, clean in its plastic pouch,
the snap still intact.

Seven hours by train, a short walk
to the Delaware bus, twenty minutes to the city
line. He gets off a stop early and crosses
the street to the hardware store; the name
has changed, common as a tenpenny nail.

He chooses a gallon of black enamel
and feels the plank floor shudder
beneath him as the vibrator-stand
shakes the can to a blur on the counter.



His mother's hands are shaking in her room, some




400 miles downstate; if she had lids on the cups




she would spill less tea on her sweaters and robe.




He may suggest it to the home.





Now, at 10:30 in the morning, she is saying




her first rosary of the day, the floor nurse leading




her on, bead by bead, as the paint slaps against its lid




only a block away from the altar rail




where she knelt for half a lifetime.





She doesn't know




what she is doing; she is seventeen again:




Springville, her brothers bringing her candies, Papa




home on weekends from the railroad gang,




her mother, rosary in hand at bedtime, and Kathleen




sleeping with her own beads under her pillow,




the same rosary she holds in her grape-veined hands




this morning, a day's journey from where he stands




waiting for his twenty-dollar bill to be broken.





She is alone for the first time in weeks:




the nurse has left to check on a noise in the hall,




and Mother goes on inventing melodies and words




to replace the orthodox prayers once her own.




In her wheelchair, the canvas waistband tight




as a saint's hairshirt, she feels




the beads loose in her hand. She fingers them,




their roundness, small as pebbles, smaller




than the stones her son has gone to see again.





She is drawn to the beads, sensing nourishment.




Her lips are moving in prayers




never heard before; her tongue is extended, her eyes




closed. She bends closer to the beads, accepting




them now like the host safe in her mouth, sliding




slowly as forgiveness on the same saliva




the aides dab away with tissues.





But now, it serves her well: for the beads




have slipped fully beyond the lips; they could




be green peas all in a row tumbling from a spoon,




beginning their descent. No pain. No outcry;




she is deep in a tangled meditation; only




the crucifix is left dangling against her chin,




its small silver link holding fast to the first




of its fifty-nine beads.





Christ is in His diaper and the thorns are intact;




He is swaying slightly swaying, His features




rubbed away by Mother's mothering. They retrieve




the rosary and dry it well enough




for her to go on to the next decade, the connected beads




back where they belong: in the tiny palm




that waited like a cradle or a font




or a crypt dark behind a large washed stone.



The paint can is freed from its shaking. He takes
the gallon as it is, swinging on its wire handle,
and drops the change in his side pocket.

The town seems almost the same: the village hall,
the playground at the corner, Kay's Drugstore
bought out and revamped from counter
to name. The sun is hot as he turns down Lincoln
Boulevard. The house is vacant; he decides
not to use the spare key for any last look.

The backyard is his grotto and he goes to it.
The stones are still in their looped line
skirting the edge of the rose garden. He stands
frozen in place. He wants all of the stones;
he wants to take them back to the ground he walks
every evening, the frail run of trees
that flanks his house.

He feels for his rosary and finds it
in his suitcoat pocket, kept there for good luck.
He takes out the beads on barstools sometimes,
to fondle them in the dim light, saying
their prayers half in a trance, and in churches
he needs to find when he is alone on the road,
cities he doesn't want to see ever again.

The stones must stay. And so he begins:
within minutes they are laid out
in a wide circle. Some of them tipping, a few
already out of ranks, but each assigned a plot
of ground: the paternosters, the aves,
the tenth aves each doubling as a Gloria Patri.

The shrubbery encircling the yard is thick
enough to hide him from the neighbors. He stands
at the back of the lawn, at the strand of beadstones
which must stray from the others so that he
might affix the crucifix-stone to its tip.
He knew back home which stone it must be:
the one with the purple vein running around
its middle, and it is there.

He loosens the lid of the gallon
with the half dollar he brought from his dresser
drawer, the chifforobe which once stood
in his father's room and now holds his own socks
and shirts and bonds and bills. The paint
is rich, the brush still soft; he can smell
the turpentine on the bristles, dry and stained
deep with many colors far down in the base,
each a different Saturday morning project done
with his father on this property, before the stones,
before almost anything.

He kneels at the first stone and grabs too quickly,
anxious to see the purple run of color, and jams
his thumb, blood forming already beneath the nail.
He replaces the stone and paints a rough cross
on it, trying to leave the vein purple
as a cinch for the stipe. He takes a giant step
to where the next stone lies: the paint
goes on with hardly a trace of dirt; another
step and he is past The Lord's Prayer, onto the first
trio of aves: the Hail Marys, one like the next.
The black is as lush as the counterman
said it would be.

Another single bead, and he finds himself
praying aloud, loud enough only for a stone
to hear. Another space and then on to the flat slab
of sandstone he knew he would use
to connect the circle of decades. He gives it
two brush strokes, unbroken,
a child's attempt at the ancient fish, good enough
for anyone who knows.

Three spaces beyond the fish lies a speckled stone;
it goes black, flush to the grass. Nine more
go quickly, slopping the paint in a blob
on top, all at once, scampering back
and forth to smooth out the drippage, ripping away
the blades of grass
that are stained, stuffing them in his back pockets.
He says the prayers as he paints his way
through the next ten; one has a bit of moss
from the shaded area along the spilloff spout
on the garage roof, the others bare
as the edge of grave markers.

It takes three Hail Marys to paint
a hail mary, the phrase "blessed art thou among women"
the line that slows him down: he finds himself
repeating it, remembering the pitchers
of lemonade Mother would leave in the shade
with chipped ice and a tall glass when he
would use the handmower on a hot day.

He is rubbing the grass now, the way
he did when he was a boy, after cutting it twice,
once fence to drive and, again, from garden
to house. He would sit and sip from the sweating glass;
the grass, the smell, the silent creatures
he'd disturbed, all
holier and cleaner than the wood trimming
the stations of the cross in the church a block away
over the back fence. He runs his hand
across the grass until it hits his leg
and wakes him to his task.

Decade two. The stones are dusty and pitted.
It all takes too long and he wonders
if the weather will hold. He crawls on
to The Lord's Prayer, three spaces away; he smiles
as he comes to the words, "Those who trespass,"
and looks over his shoulder toward a space
in the hedge, but knows that
what he is doing is his to do.

The third and fourth are almost too much.
The paint needs stirring, the brush is filled
with dirt; his time is running out. If
he were to show anyone a decade, it would not be
either of these. The paint is too thick, the grass
too black, the stone-face showing through too often.

He must finish and get away; he feels it
in his wrists and ankles. He wonders if he should
have come at all. His thumb,
with its nail blood dried black, is numbing.
He needs to be home, close to his own
ring of stones at the far end of the property
where he can sit and poke at the mild fires
he builds there, feeding the flames
with twigs and branches fallen on their own,
the rocks large enough not to split from the heat,
high enough to contain the blaze.

But it is time for his best work.
The paint goes on like cream, as thick
as the cream that came
in the bulb-topped bottles of the forties
that the milkman would leave in the back hall
during the war if they'd remember to prop
the shirtcard cow in the window alongside
the sign for the iceman and breadman,

Smooth as the blade of grass he holds still
between his lips, thin and slick, not a blade
to crush between thumbs
to make an unseemly noise, not one that would grow
in a back lot, but one like all the others
in this yard, planted by Father, tended
by Father, watered by Father at dusk while other lawns
went to seed and crabgrass and weed no one
could name. It tastes good and clean and cool.

And now it is done. The last bedrock black
as the pieces of coal he was allowed to pitch
into the yawning furnace,
when Father would bank the fire,
at nine-thirty every night, so that they could awaken
in Lake Erie winters to heat rising from the floor grids.

He looks back at the house, up
at the window where the afternoon light
is spreading its daily shadow across the corner
of the small blue room he'd shared with his mother.

He goes to his knees and puts the lid back
on the empty can. He wipes the brush across the label,
the brand name, the directions, the cautions,
cleaning the bristles as best he can. He will
finish the job as his father would have him do,
but not here; back home, at his own bench
in his own garage, where he belongs.

He slips the brush into its plastic sleeve
and drops it carefully into his inside suitcoat
pocket and walks to the corner of the house
where the same garbage cans wait hidden
behind the spruce trees. He lowers the container
far down inside the first and heads for the street;
he does not look back.

He has his wallet, his ticket home,
his father's brush. He is listening to the angelus
tolling from the parish belfry: six o'clock.
But there is something else, quieter than the bells
calling the villagers to prayer, something
closer. It is his mother's voice, restored,
the same voice that used to call to him
from the kitchen window; she is obeying the ringing
of the bells; she is intoning the beads
he has left in her name beneath the Niagara sky:
the threat of rain diminished, a healing breeze
from the distant river
drying the rocks where they lie.





FENDER DRUMMING



The unused lot behind the mall is lit
Like noon by a circle of idling cars,
Their high-beams isolating two Dusters,
Dead center, parked grille to grille against
Their owners' shadows tilted up to watch
A coin disappear in a late August sky then
Reappear, inside a broad band of light, flip
Flopping to the gravelly dust that swirls
Between their boots. Heads it is,

And the one billed as Downtown spits
On the dime for not being tails, rakes
His fingers through his grey thick hair
And takes his place at the right front fender
Of the teenager's car, a fender left unwashed:
A thud of curved steel waiting tight and thick
And dull. He antes up

His 50 bucks: blood money he rolls
And sticks into the ridge crack, while
Across the hood, the other they all call
Kansas City kicks in his roll and peels away
A chamois to reveal a hand-tooled fender,
Its powder blue spilling over the edge
Where his fingers are busy fondling it,
Rubbing and stroking it, preparing it
For all the things he has in mind.

The others know the rules and leave
Their cars, hushed, pressing the doors shut,
To sit on their bumpers, leaning back, allowing
Their engine blocks to shudder through them,
Headlights free to do their job no more
Than ten strides away from the drummers
Already testing the metal: tapping and banging,
Riffmg away, a run of triplets here, a ruffing
There, half-drags, flams and paradiddles,
Feeling each other out with low caliber shots
Delivered at point-blank range.

They stop and hold their hands up open
For inspection, proving they have no boot
Wax no epoxy no nu-skin no clear polish no
Thread-tape no polyethylene, nothing
But scars to keep their flesh from popping
On impact. And then the once-only passing
Of fingers behind the ears, across the brow,
Picking up any oil they can find, forcing
It deep into the finger pads they rub-up
Aside their ears, hearing the friction
Lessen as each skinprint starts to slicken.

They nod and KC hits the slap-clock perched
On the hood-drain, stepping back as Downtown
Whirls his fist high overhead, slamming it
Back down into the fender as though burying
A knife up to its hilt, leaving a crater
Round as a saucer and thrashes out his
Opening burst against its rim: a signature
Ostinato built to last: a flat-handed
Ratamacue, its 4-stroke ruffs chasing
The diddy-raks of lefts and rights, their
Accents all in line, letting it flick
Off into what sounds like a wrong turn
But brings him to a dark side street where
He plays mean, trashy shots slashing a foot
High without blood, laying down blisters
That ring true, smudging the crosstown
Rumors that he was easy: nothing more
Than a down and out ham-and-egger broken
By endless weeks on the summer circuit.

The alarm clangs and Kansas thumbs it back
To Start, using the top arc in offbeat
Only to sweep it aside with a triple
Chop and the 12-count pause the crowd knows
By name and chants across the gravel: Let
The cat out, Let the cat out, Let the cat out,
Now; and he's off, the fender swelling
On its struts as he knocks its brains out,
Whip-cracking licks coming from somewhere deep
Inside; doubled over, his cheek touching
The fender, he muffles some ruffstuff, his
Thighs easing in tight, the tingle surging up
Through his groin, his hands no more than blur
As he lays down an intimate rumble, a morendo
Delicate yet soaring from steel to paint to air,
As the slap-clock takes his time away.

Downtown sets the dial to 5 and takes
A deeper breath than he should need, turning
Toward his own car, tapping on the window
For the door to be unlocked. He gets inside
For who knows what behind all that tinted glass
Rolled up tight against the local wannabes
Who are running loose at halftime, banging
Each other's fenders to beat the band,

While Kansas City greets a curve of blackshirts
That keeps the fans at bay, except for a sleek
Young blonde who parts the crowd to drape a towel
Loose over his shoulders before sliding her hands
Down his arms in ritual: a kiss applied to the tip
Of each finger as he slides them splayed open
Across her lips, parted to allow her searching
Tongue to apply its healing balm;

KC stays put and shakes his hands, as if he's
Just washed them in a stream, before enclosing
Her face in them, drawing her close, spreading
The towel over their heads to disappear
Into a long hidden moment that is ruptured
By crackling thunder clearing the air
For three jagged strings of wet lightning
That send her away with all the others
Scrambling for their jalopies, the rat-a-tat,
Rat-a-tat, tat-tat-tat of the first plips
Of drizzle augmented by wiper blades slapping
Away in broken unison around the rim.

Time. And Downtown steps out bare-chested,
Wrapping his tee shirt in knots around his head,
The rack of his ribcage showing through
As he faces off in the growing storm for The
Give-and-Take. No clock. Set Ready Go,
And Downtown batters off his Blind Pig stutter
Step. KC hammers back a hand-butt pounding
Version of The Stumble Bomb answered in kind
By Downtown's own knuckle-knocking riff of Let
Me In echoed by a flathand read of KC's
Small-arms Fire: a frantic run of punishing
Half-drags, flams and rolls that Downtown
Duplicates as the skies pour it on, drawing

KC's healer back to his side, shaking
In a chill she can't define, as Downtown's
Car door opens and a woman, too old for such
Weather, steps out and joins him without taking
Her eyes from his hands that are running
Rudiments with KC, beat for beat: ruffs, rolls,
Paras and flams, ratams and trips and drags,
Ignoring the rivulets streaming candy apple red
With every slash they lay down: the women
Edging closer but trained to know their place
As split pads widen on each side of the hood:
Trigger fingers tearing wide open, stroke
After stroke after stroke flapping with less
Force against fenders dancing with thick
Needle-rain that scrims their hands and enshrouds
Their women who sense a final thunder.





STICKS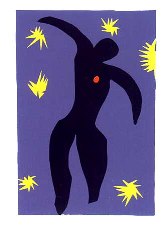 "Jazz Icarus"by Henri Matisse












Back-street bars such as those located on West Genesee, Mohawk,

and Michigan, have given rise to a resurgence of interest in cool

jazz. The trend has afforded the area a much-needed economic boost.

—The Buffalo Courier Express, 1951



His folks buy the lie: he'll hit the books
Over at his buddy's house, & grab supper
There, catch the Friday night double-feature
At the Royale, stop off at the malt shop, &

Be home around midnight. He slides his sticks
Up his sleeve & heads off past manicured lawns,
Alongside the library, & hops on the Delaware
Bus heading south through the projects.

Where Division cuts cross town, he transfers
To the rush-hour local & rides it to the end
Of the line, reading chunks of a crushed copy
Of King Lear that travels in his back pocket,

& still has time to work his sticks through
A few rudiments before the bus does its
U-turn in the train yards. Just two blocks
Beyond the freight house, he takes the alley

They warned him about, & comes out on Perry,
Smack in front of The Kitty Kat, its transom
Sign rimmed with rust but still pulsing cool
Blue neon through the eyes of a snarling cat.

Inside, wishing he were black, he sees what
He hoped to see: Big-Gate Clossen setting his
Traps, his ride cymbal blazing in the klieg
Light's glare. The place is filling up, still

An hour or more before the opening set of five,
& the kid asks if he can drum for mike checks,
& gets a Yes instead of the door! He rattles
Off his own double-8: smooth triplets sliding

Into a roll that blurs out atop the closed high
Hat. The sound man wants it again, & BG stops
To listen, & tells the kid to hang around, that
He can sit-in for him on an early set or two.

The kid nods, & slides his sticks into his belt,
Somehow making it to a booth without his heart
Banging through his chest. He orders a beer, but
Settles for the ginger ale they bring him in a mug.

The trio starts early, whacking the room awake
With Frenzy, & eases into Bird's version of Easy
To Love, BG's shading so delicate, his brushes
Must be tipped by strands of velvet, not wire.

The kid figures if BG waves him up, he'll go easy
On the bass pedal, chatter some with both hands
On snare & tom. Just like back home, behind the
Closed French doors: Max Roach on the turntable,

Perdido set at 78, & geared down to 33 for study,
& back up to 45, before going flat-out at 78,
Beat-for-beat with the master, ending with his
Signature tinka-tink on the crash cymbal's crest.

The trio's back from break, & BG's calling to the
Kid. He's on his feet, hearing what seems to be
Applause mixing with the pounding in his head, &
Someone yelling for him to blow the roof off!





II. STICKS &

FISTS & ROSARIES




by Dan Masterson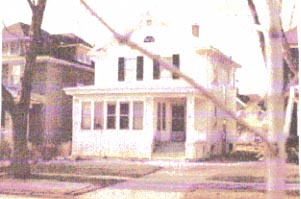 Dan's boyhood home

One of my earliest memories is finally going to my father to ask for help. A bully had been beating me up at recess and I was getting sick of it. He told me "a brick would help." My first exposure to metaphor. I went back the next day and smashed the kid in the nose, with his fist. Amen. A few days later, my dad chained a speed bag to a beam in our basement, stood me on a milk crate, and taught me to use my fists. It was 1941 and I was seven, and the Buffalo snow was clicking against the windows. I beat the bejabbers out of that bag every day all winter. By the time spring came, it had become a habit. I still have it.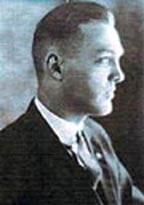 Dan's father, Steven V. Masterson

That summer, I was coming back from our nearby library and I took a short cut behind the grocery store. I saw the teenager who lived across the street from us, a hero of mine, and he called me over to the garbage shed where he was sneaking a smoke with a buddy. They pulled me inside and pulled my shorts down. I started to scream and hit and kick and got away, running like a hobbled horse with my shorts still halfway down my legs. My dad was working in the yard, and he picked me up and I told him what I was crying about. He looked me in the eyes and said it would be okay. He handed me to my mother and went off somewhere. After a while, I went to the cellar and punished the bag, and a long time later, my dad came home, ruffled my hair, and said it was "taken care of." That was a Saturday. Monday morning, a moving van arrived across the street and that family left town. My dad never told me what he'd done—even when I was grown up. But I knew nobody should mess with him.

It was about that time I started writing poetry and stashing it out of sight in an orangewood box under my bed. My days began with a different wake-up call from my dad, always in rhyme, and at noon, I'd jump the back fence from the schoolyard for lunch with my mother, and talk about the new word she'd chosen from the open dictionary lying on the kitchen table. Toward the end of the school year, I stayed after class and asked Sister Helena if she'd read one of my poems. She frowned, grumbled, and yanked it out of my hand. She said, "There's an error in the first stanza. Do you know what a stanza is?" I did. "Well, if you find it and correct it, I may read the next stanza." "No you won't," I said, "because I won't show it to you." I was stuck with her for the next two grades, and she hit kids, but not me. My dad wouldn't allow any touching of me or my sisters. It drove the nuns nuts. It was eleven years before I showed anyone another poem: Professor Whitney at Syracuse University. He told me I had a good chance of being a poet.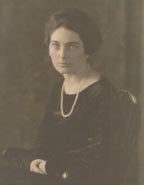 Dan's mother, Kathleen Fitzpatrick Masterson


I started drumming, back in high school—first on car fenders with a buddy, and then on a beat-up set of drums I bought in downtown Buffalo. I taught myself to drum by listening to 78 RPMs on 33 and then 45 and then back up to 78. One night, I took three buses down to the Kitty Kat Klub, a black jazz bar in Buffalo, with my sticks, and talked my way into sitting in for the drummer. Pretty soon, word spread that I was okay, and I was playing in four or five bars weekends. My folks never found out; they thought I was hanging out with my buddies. When we'd have high school dances, the bands would let me sit-in and do a solo at intermission.

When I went away to college, I played at the Cadillac Lounge on weekends after I'd drop my future wife, Janet, off seconds before curfew. I'd join Kenny Sparks who'd be in his 3rd or 4th set, playing piano and singing, working his way through college. I'd play brushes on a baby conga I'd made from a nailkeg—and bongos for Latin stuff. After college, it was back home to a dj job at "WBNY The Friendly Voice of Buffalo"—until I left for the Army.

Well, that's where the "Sticks" & "Fists" poems came from. The "Rosary" poems started during the 2nd world war when my sisters and I would join my Mom and Dad, kneeling on the living room floor, where my dad would lead the rosary. One Friday night, I must have been in 5th grade maybe, my father turned to me and said: "Why don't you lead us in prayer this evening, Dan." It was like being punched in the chest. I didn't have his thunder in my voice, but I got through it. I've carried a drum key in my righthand jacket pocket and a rosary in my left, all these years. The rosary beads used to get tangled in a roll of dimes wrapped in electrical tape (brass knuckles that don't show), just in case. Our household was strict Catholic: Confession, Mass, Communion, Novenas, the whole works. And it stuck for a long time. The rosary still feels good in my fingers, and the prayers to my head. But much of the orthodoxy has vanished, the church-going, the rules, and the holier-than-thous. Monkhood is good. But what stuck, really stuck. I'm part priest. Would have been if I could have married Janet, but I would have lasted about two Sundays before I decked Father Bingo who would have wanted to run/ruin my life. But a lot of good stuff rubbed off. And the poems are fueled by it, in an oblique way—but it's there.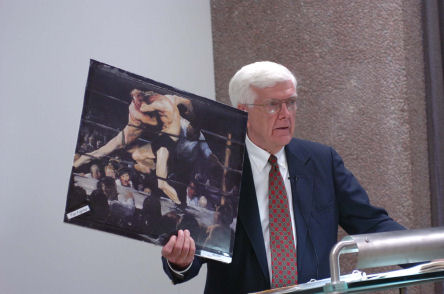 Dan holding a print of George Bellows' "Stag at Sharkey's" during a reading at Syracuse University




Copyright 2006-2012 by Cook Communication